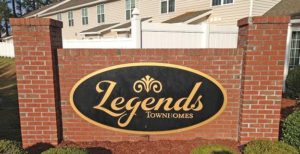 Number of Units:
26
Dues:
$ 72.00 / Month
Dues Include:
General Liability/Board of Directors Insurance
Association Management
Maintenance of Mail Boxes
Landscaping
Dumpsters
Parking Lot
Exterior Maintenance
Pest / Termite
Street Lights
General Liability Insurance: Todd Brown, W.A. Moore
Phone: 252-321-7717 ext.229
Landscaping: Zamoras Landscaping
Phone: 252-558-3607
Pest Control: Russ Pest Control
Phone: 252-746-8098
Your Community Manager is:   Freedom Edmundson
Phone Number: 252-565-4820   ext 5
E-mail:  fedmundsonhoa@gmail.com
GOVERNING DOCUMENTS
Legends Covenants
Legends Bylaws
Legends Articles of Incorporation
Legends Homeowner Information
Legends Bank Draft Form
Legends-Tenant-Info
Legends Rules and Regulations
Legends Collection Policy
ALL REQUESTS, COMPLAINTS, OR CONCERNS MUST BE SUBMITTED IN WRITING.
ALL PAYMENTS SHOULD BE MADE OUT TO LEGENDS HOA AND SENT TO HOA MANAGEMENT COMPANY 3107-B SOUTH EVANS ST. GREENVILLE, NC 27834. PLEASE REMEMBER TO INCLUDE YOUR UNIT NUMBER ON THE MEMO LINE OF YOUR CHECK.
AS A HOMEOWNER IT IS YOUR RESPONSIBILITY TO LET US KNOW IF ANY CONTACT INFORMATION CHANGES OR IF YOUR PROPERTY IS GOING TO BE SOLD.
IN CASE OF AN EMERGENCY AFTER HOURS (AFTER 5PM OR ON WEEKENDS) PLEASE CALL THE HOA EMERGENCY LINE AT 252-916-8811
Address

:

Winterville, North Carolina