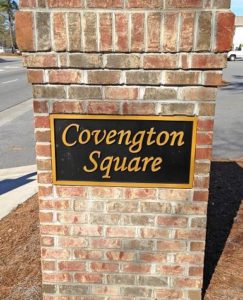 Number of Units:
64
Dues:
$ 190.00/ Monthly (Dues increased 1/18)
Dues Include:
Master Policy Insurance
General Liability/Board of Directors Insurance
Landscaping
Pest / Termite Control (on call pest services)
Yearly termite inspection
Lights (stairwells, mail houses, street)
Security Systems
Water / Sewer
Clubhouse
Pool
Master Policy: Steven Wood, Burgaw & Co. Insurance
Phone: 252-946-7151
Landscaping: U S Lawns
Phone: 252-439-5296
Pest/Termite Control: Pestech
Phone: 252-353-4760
Your Community Manager is: Freedom Edmundson
Phone Number: 252-565-4820 ext. 5
E-mail: fedmundsonhoa@gmail.com
GOVERNING DOCUMENTS
Covengton Square Bylaws
Covengton Square Covenants
(
Maintenance and Upkeep Policy
COVENGTON LEAK POLICY
Declaration of Condominium -Covengton-Rules and Regulations
Covengton Square Homeowners Association Collection Policy (1.2017)
Covengton Square Draft Authorization Form
Covengton Square Homeowner Information
Covengton Square Payment of Dues
Covengton Square Tenant Info
Covengton Clubhouse Rules and Application
ALL REQUESTS, COMPLAINTS, OR CONCERNS MUST BE SUBMITTED IN WRITING.
ALL PAYMENTS SHOULD BE MADE OUT TO COVENGTON SQUARE HOA AND SENT TO HOA MANAGEMENT COMPANY 3107  EVANS STREET STE. B GREENVILLE, NC 27834. PLEASE REMEMBER TO INCLUDE YOUR UNIT NUMBER ON THE MEMO LINE OF YOUR CHECK.
AS A HOMEOWNER IT IS YOUR RESPONSIBILITY TO LET US KNOW IF ANY CONTACT INFORMATION CHANGES OR IF YOUR PROPERTY IS GOING TO BE SOLD.
IN CASE OF AN EMERGENCY AFTER HOURS (AFTER 5PM OR ON WEEKENDS) PLEASE CALL THE HOA EMERGENCY LINE AT 252-916-8811
Address

:

Greenville, North Carolina